Press Conference
On
Southern Mongolian Genocide to UNESCO's memory of the world programme
On June 1, 2017, Southern Mongolian Congress held a press conference at on Southern Mongolian Genocide to UNESCO's memory of the world programme in both Tokyo and Ulaanbaatar.the same time.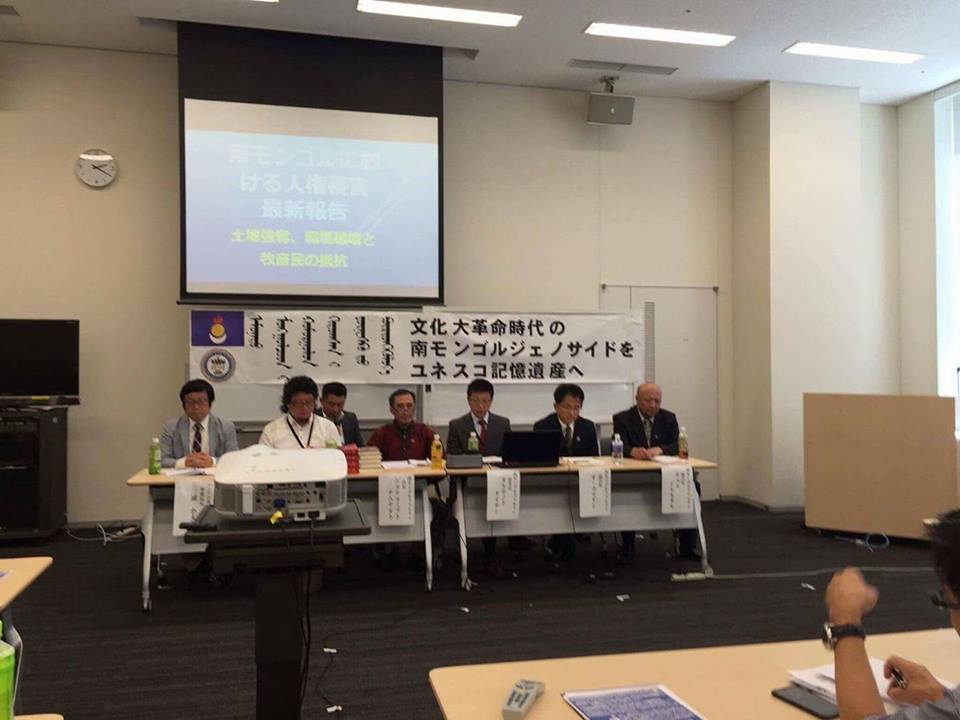 1. Press Conference in Tokyo
SMC held a press conference in conference hall of Upper House of Parliament on June, declaring the initiating of Southern Mongolian Genocide to UNESCO's memory of the world programme, compiling and translating relevant materials about genocide during the Cultural Revolution before submitting to UNESCO.
China's government has acknowledged the numerous death in the Cultural revolution. According to The history of Inner Mongolia autonomous region, the death toll is 27,900. However, the scholars believe that the numbers of Mongolians are more than 500,000.
Chairman of SMC Temtselt Shobshuud: Hannese always stress that the disaster of Cultural Revolution is across the whole China and people of all nationalities are victims. However, I believe it is different. The movement of wiping out Inner Mongolian people's party actually is a holocaust against Mongolian. The application for the memory of world programme is not only denoucing China's government, but also reminding our descendants to remember the historical animosities and not reduplicate the tragedy.
The secretary-general Mr. Olhunud Daichin: Today, Hannese has occupied Southern Mongolian pasture, predatorily exploiting mineral resources, which has contaminated and destroyed the natural environment. Local Herdsman is hard to survive. China's government, police and servicemen suppress petitioning, monitoring Hada and Huuchinhu who struggled to protect human rights and national culture. Ms. Hu had been under close surveillance by China's police. Until now, China's government still exercise policy of both cultural and national genocide.
Takashi Nagao, member of Japanese House of Parliament: every participants in the press conference should take the task to publicise the Southern Mongolia. As we all know that, value-oriented diplomacy is based on the universal values such as freedom, democracy and human rights. Japan has been preferring a diplomatic policy of values to power diplomacy. I think Japan, as a state advocating human rights, would strive to be a platform for Tibetan, Uyghur and Southern Mongolian to voice for freedom and help the world to understand them.
Minoru Kiuchi, Japanese vice Foreign Minister: Southern Mongolian issues, just like Tibetan and Uyghur, are concerned with human rights which would have been discussed by the international community, that is not to interfere in domestic affairs. We have to focus on the current situation of those Southern Mongolians who have been arrested and detained.
Attendants are Journalists from Sankei Shinbun, Asahi Sinbun, Tokyo Shinbun, American RFA, Taiwan's Liberty Times.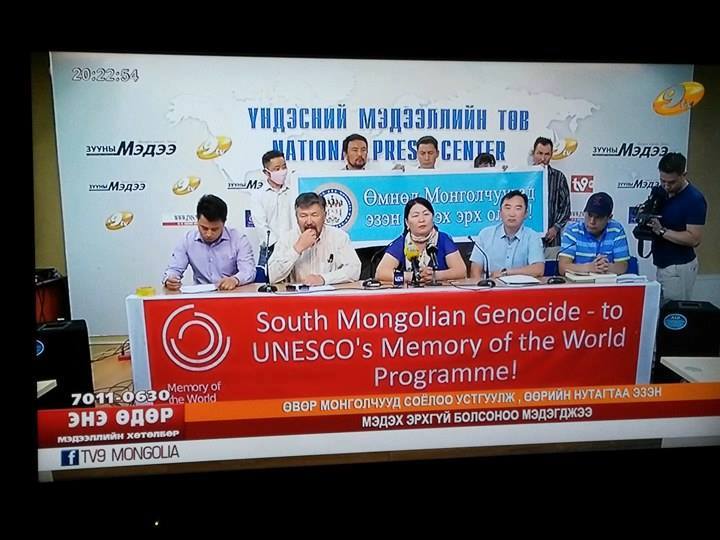 2. Press Conference in Ulaanbaatar
Movement of wiping out Inner Mongolian people's party erupted in Southern Mongolia during the Cultural Revolution, which caused ethnic genocide. According to China's government, the death toll is about 27,900, but the actual number more than 50,000. SMC initiated to enlist the Southern Mongolian Genocide to UNESCO's Memory of World programme. Please support SMC's initiative.
CPC has occupied the Southern Mongolian's pasture, predatorily exploiting mineral resources, excessively relaiming and aimlessly developing livestock, which has contaminated and destroyed the natural environment. CPC has brutally surpressed Yangjindulma、Dabshiltu、Shine、Almas. SMC has been supporting Southern Mongolians' assertion of right and conducting many protests and denoucing activities. SMC appeals to the world to support herdsmen in South Mongolia.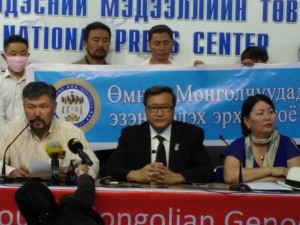 China's government has promised to protect Southern Mongolians' rights for self-determination. But they went back on it and deceived Southern Mongolians. SMC asks for the international support, struggling for self-determination of Southern Mongolians.
Civilians in Mongolia should learn lessons from the tragic history of Southern Mongolians. Otherwise, it will reappear in Mongolia, such as Cultural Revolution, wiping out movement, the Red Guard Movement, genocide and assimilation.
Gangsuren, chief of Blue Mongolia Group: nationalists will protect Southern Mongolian compatriots forever.
Wangden from Sunid banner: all in South Mongolia were involved in the Cultural Revolution. Moreover, Movement of wiping out Inner Mongolian people's party was a shocking and terrifying event, which still remains fresh in Southern Mongolians' memory. They cannot snap out their dread feeling. Aiming at avoiding such tragedy, many Southern Mongolians are struggling for it. I 'd like to extend my thanks to the support of compatriots in Mongolia.