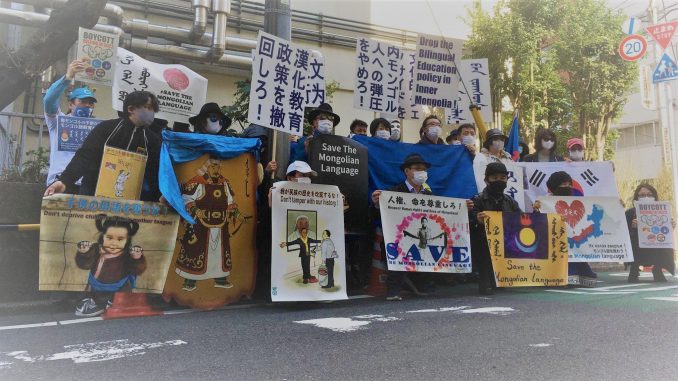 On February 21, International Mother Language Day, protests took place in Japan, Sweden and Mongolia in support of Inner Mongolian mother tongue rights.
Protests was in front of Chinese embassies and consulates in Tokyo, Osaka and Nagoya, Japan. Organized by the Federation of World Mongols and the Congress of Southern Mongolia. They read out and stuck the statement into the mailbox of the diplomatic missions.
The summary of the statement is:
"300,000 people in Inner Mongolia protested against China's persecution of the Mongolian language. China suppressed the struggle with violence. We strongly demand from the Chinese government:
-First of all, stop the cultural genocide and stop persecuting the Mongolian language!
Second, stop the Chinese from migrating to Southern Mongolia, return the herders' grazed pastures, and give them full autonomy rights as provided by Chinese law!
Third, release all those who are illegally imprisoned for protecting their mother tongue!"
Protesters have called on the world to boycott the Beijing 2022 Olympics.
Due to the strict carantin against Covid-19 in Mongolia, Mongolian citizens organized an international online conference called "Save the Mongolian Language". Organized by the NGO "Save the Mongolian Language". The President of Mongolia Ts.Elbegdorj, former Minister of Culture Ts.Oyungerel, cultural figures L.Purevdorj and Go. Akim, Doctor of Linguistics M. Saruul-Erdene, scientist from Japan Toshiyuki Uchida, representative of South Mongolia Professor Ba. Bold, head of the Buryat Democratic Union Dorzho Dugarov and and about 50 famous scientists and activists participated: https://www.facebook.com/savethemongolianlanguageYouth/videos/792938661335087
On February 20, the front page of the Sankei Shimbun newspaper reported that an Inner Mongolia lobby would be established in the Japanese parliament. Members of the Japanese House of Representatives support the southern Mongols: Yoshiaki Harada (former MInister of the Environment), Hiroshi Ueno, Takashi Nagao, Hiroshi Yamada, Hiroyuki Miyazawa, Mio Sugita and others.
In Sweden, activists also staged an action and made a video: https://www.facebook.com/savethemongolianlanguageYouth/videos/252236496371784. Organized by the Association of Mongolian Culture in Sweden.
South Mongolian activist Hachingoo, who lives in France, organized the action. The participants had to take a picture with slogans and publish it on FB.
The "Save Mongolian Language" movement organized an action, the participants of which must place their profile-photo in FB in a frame.