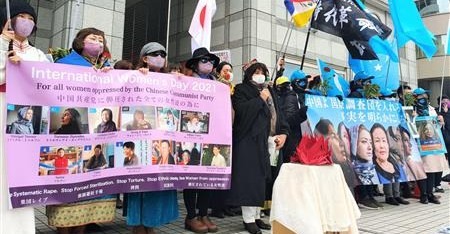 On March 7, 2021, activists called on the world community to protect the human rights of women who belong to the national minorities of the PRC.
In Tokyo, activists staged an action "For all women oppressed by the Chinese Communist Party" in front of the United Nations University building. Attended by activists from the Congress of Southern Mongolia. And also from Xinjiang, Tibet and Hong Kong. They are all women.
They kept the slogan: "Stop Systematic Rape", "Stop Forced Sterilization", "Stop Torture", "Stop Ethnic Cleansing".
They were holding a poster with a photo of female fighters: Mihrigul Tursun, Tursunay Ziawudun, Gulbahar Jelilowa from Xinjiang, Wong Ji Yuet, Agnes Chow, Tiffany Yuen from Hong Kong, Surna, Ulaan, Huuchinhuu from Inner Tongolia, and Palden Choetso, Lhamo, Ngawang Sandrol from Tibet.
In Mongolia, Representative of the Congress of Southern Mongolia Ch. Munkhbayar addressed the Mongols of the world in a live broadcast on Facebook. He also called for the protection of the rights of women who belong to national minorities and the boycott of Beijing 2022.