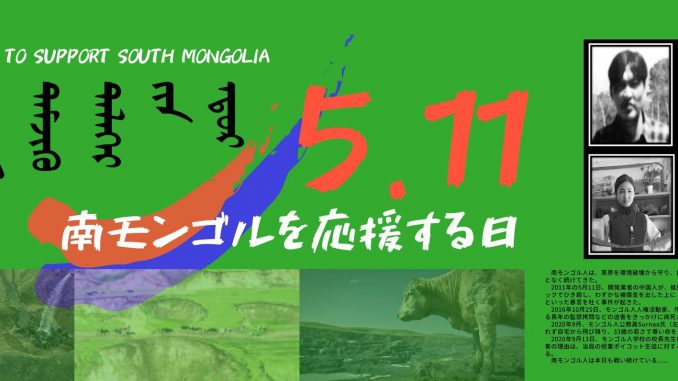 Statement of "May 11 World Day to Support of Southern Mongolia"
The Chinese government is urged to stop its genocidal atrocities against South Mongolia!
On May 11, 2011, Mergen, a nomad who stood up to protect his grassland and homeland was deliberately killed by a Chinese driver. We strongly protest at the Chinese government's policy of genocide against South Mongolia. After World War II, the People's Republic of China has been illegally occupying the territory of Southern Mongolia, and it leads to grassland degradation and desertification. The PRC implements a policy of genocide against Southern Mongolians by destroying Mongolians' traditional customs, religious beliefs and national culture. During the Cultural Revolution, hundreds of thousands of Mongolians were murdered, persecuted and massacred, leaving the nation an indelible spiritual wound. The Chinese Communist Party not only deprives the lives of the Southern Mongolians, but also arbitrarily reclaims and ruins the grasslands that the Mongolians have survived on for generations. Their homeland and living environment have been destroyed by the CCP authorities, Chinese enterprises and Chinese immigrants. Furthermore, the CCP also deprives the Southern Mongolians of the access to Mongolian as their mother tongue. Since September 2020, Mongolian language teaching has been banned and forbidden in school, and Chinese is recommended as the teaching language even in kindergartens. The eradication of the Mongolians' national language and cultural identity is absolutely an atrocity of genocide towards of Southern Mongolia both of ethnic and culture. Today, the international community is severely condemning Putin and Russia's invasion against Ukraine. However, the CCP regime led by Xi Jinping is also implementing a policy of genocide against South Mongolia, by trampling over the South Mongolians' lives, destroying their living environment, and depriving their rights to access the mother language and national culture. Therefore, we call on all countries in the world to sanction the CCP and punish its genocide policy just as they did to Russia.
We strongly protest against the brutality of the Chinese government and call on the international community to put pressure on China:
1. Demand that the Chinese government immediately stop its genocide against the South Mongolians and return these people the rights of national self-determination.
2. Demand China to abide by the national autonomy, the right to education and the right to subsistence stipulated in its own constitution. China should give the right of receiving education in the mother tongue back to the Southern Mongolian children, give the grasslands back to the South Mongolians, and to immediately release those Mongolian citizens who have been arrested for safeguarding their legitimate rights and interests.
3. Call on the human rights agency of the United Nations to send a special team to investigate the genocidal atrocities committed by the Chinese government against Southern Mongolia in the spirit of advocating universal values and human rights.
4. Call on all countries to sanction China until the CCP stops its genocidal atrocities against South Mongolia.
"May 11 World Day to Support of South Mongolia" Activity Executive Committee
May 8, 2022