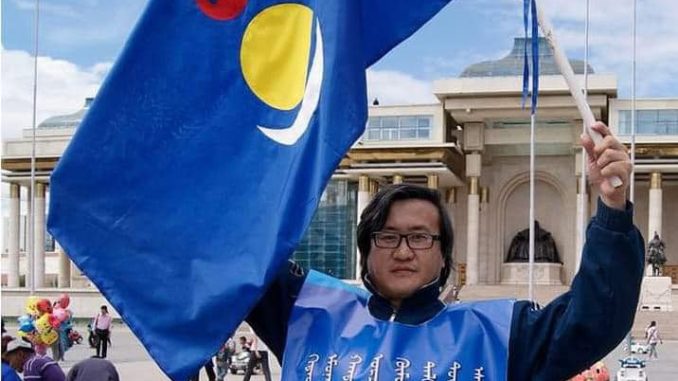 PEN AMERICA CALLS FOR THE IMMEDIATE ACQUITTAL AND RELEASE OF MONGOLIAN ACTIVIST MUNKHBAYAR CHULUUNDORJ SENTENCED TO 10 YEARS IN PRISON FOR PROTESTING CHINA-MONGOLIA RELATIONS
FOR IMMEDIATE RELEASESeptember 13, 2022
(NEW YORK)—Ahead of Mongolian writer and activist Munkhbayar Chuluundorj's appeal set for September 14, PEN America urges Mongolian authorities to immediately set aside his 10-year sentence and release him unconditionally.
"The harsh and unjust verdict in Munkhbayar Chuluundorj's trial is a grave violation of the fundamental right to free expression," says Liesl Gerntholtz, director of the PEN/Barbey Freedom to Write Center. "The baseless national security charge against him is simply a tactic to silence dissent and eliminate voices critical of both the Mongolian government and China's policies in Inner Mongolia. We urge Mongolian authorities to immediately release Munkhbayar Chuluundorj to respect his, and everyone's right to criticize their government."
A founding member of the World Mongols Poetry Association, Munkhbayar Chuluundorj is a well-known blogger, poet, and human rights activist known for defending the linguistic, cultural, and historical identities of ethnic Mongolians in China's Inner Mongolia. Munkhbayar Chuluundorj was detained this past February 18 in Ulaanbaatar for his vocal critique of the Mongolian government's close ties with China and the shrinking rights of ethnic Mongols in China's Inner Mongolia. Most recently, he had called on Mongolia's Prime Minister Luvsannamsrain Oyun-Erdene to resign. He was sentenced to 10 years in prison on June 28 for "collaborating with a foreign intelligence agency" against the People's Republic of China. Chuluundorj's lawyer has dismissed the charges as false, and noted that "no article or clause of the constitution or any other laws of the independent country of Mongolia has ever stated to criminalize the citizens of Mongolia to defend the interest of China."
The conviction of Chuluundorj took place amid China's new public education policies in Inner Mongolia to remove Mongolian language instruction for several key subjects. According to PEN America's 2021 Freedom to Write Index, similar policies restricting and criminalizing the use of ethnic languages in China are being advanced in regions with large populations of ethnic minorities, such as the Xinjiang Uyghur Autonomous Region and the Tibet Autonomous Region. In 2019, ethnic Mongolian writer Lhamjab Borjigin was handed a one-year sentence by Chinese authorities for inquiring into the history of the Cultural Revolution in the disputed regions of Inner Mongolia.
PEN America stands at the intersection of literature and human rights to protect open expression in the United States and worldwide. We champion the freedom to write, recognizing the power of the word to transform the world. Our mission is to unite writers and their allies to celebrate creative expression and defend the liberties that make it possible. pen.org
CONTACT: Suzanne Trimel, communications and media consultant, STrimel@PEN.org