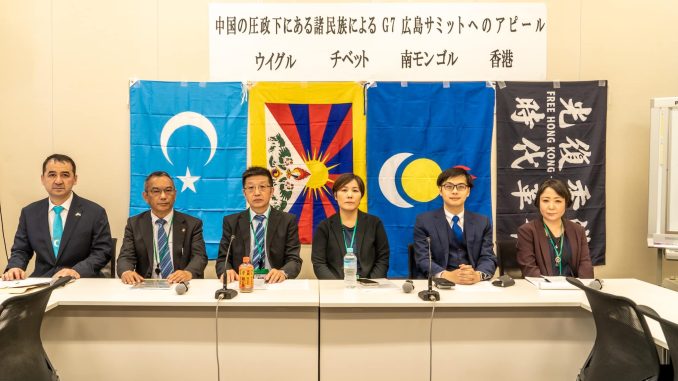 Petitions to the G7 Hiroshima Summit by Ethnic Groups Under Chinese Oppression
We, the Uyghur, Tibetan, South Mongolian and Hong Kong organizations, warmly welcome the leaders and guests of honor to the G7 Hiroshima Summit in Japan.
We believe that one of the missions of the G7 leaders is to unite the G7 countries, which share the fundamental values of freedom, democracy, and human rights, and the presidency of Japan in dealing with China, which openly tramples on these common values and threatens international law and order right next to Japan.
Among the countries participating in the G7 Hiroshima Summit, the U.S. government, the British Parliament, the French Parliament, the Canadian Parliament, and the European Parliament have passed resolutions recognizing the Uyghur genocide. Japan's House of Representatives and House of Councillors have passed resolutions on the grave human rights situation in Uyghurs, Tibet, South Mongolia, Hong Kong, etc. However, the Uyghur genocide, cultural genocide against Tibetans and SouthernMongolians, and serious human rights violations against Hong Kong people continue. In some aspects, the G7 countries are facilitating these criminal acts, such as importing products made by forced labor and exporting surveillance technology that can be misused for human rights abuses.
We call on the leaders of the G7 countries and the Japanese presidency to send a strong message and take concrete measures to stop these criminal acts, without making an exception for China.1. We urge Japan to enact the Magnitsky Act as soon as possible. The G7 nations, except Japan, have enacted the Magnitsky Act one after another, imposing sanctions on those involved in acts that seriously violate human rights as defined in international human rights law. It is time for Japan to play a more active role in human rights diplomacy.2. We call on Japan to take seriously the investigation reports that Japanese companies are involved in the forced labor issue and that the technologies of Japanese companies are being misused for human rights abuses by the Chinese Communist Party regime, and to enact laws to restrict the import of products involved in forced labor and to restrict the export of technologies misused for human rights abuses.3. We urge G7 leaders to press China to immediately cease genocide and gross human rights abuses against Uyghurs, Tibetans, South Mongolians, and Hong Kong people, and to immediately release those unjustly detained.4. We call on the G7 leaders to press China to guarantee basic human rights for Uyghurs, Tibetans, Southern Mongolians and Hong Kong people, including the right to education in their own language, culture and belief, and freedom of assembly, association and expression.5. We call on the G7 leaders to issue a statement calling for an end to human rights abuses, assimilation policies and genocide against Uyghurs, Tibetans, South Mongolians and Hong Kong people.
April 19, 2023
Japan Uyghur Association, Japan Representative Office of His Holiness the Dalai Lama, South Mongolia Congress,World Mongolian Federation , Japan Hong Kong Democracy Alliance
| | |
| --- | --- |
| | 返信全員に返信転送詐欺メール対策 |