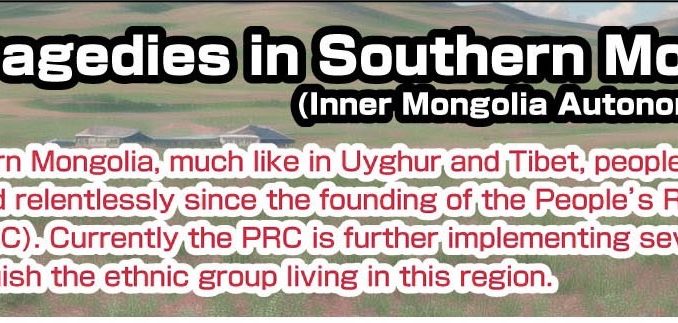 The tragedies in Southern Mongolia (Inner Mongolia Autonomous Region)!
In Southern Mongolia, much like in Uyghur and Tibet, people have been oppressed relentlessly since the founding of the People's Republic of China (PRC). Currently the PRC is further implementing several policies to extinguish the ethnic group living in this region.
Exclusion of the Mongolian mother tongue from educational facilities: Cultural Genocide
In the fall of 2023, the Chinese government decided to use the Chinese language in educational facilities from September and abolish mother tongue education in Southern Mongolia. This violates Article 4 of the Constitution of the PRC, which states that "all ethnic groups have the freedom to use and develop their own languages and characters."
It also violates Article 1, Paragraph 1 of the Declaration on the Rights of Persons Belonging to National or Ethnic, Religious and Linguistic Minorities adopted by the U.N. in 1992. In the Declaration they state, "States shall protect the existence and the national or ethnic, cultural, religious and linguistic identity of minorities within their respective territories and shall encourage conditions for the promotion of that identity."
The abolition of the mother tongue, which is the soul of the ethnic group, from places of education means that the cultural genocide is carried out in Southern Mongolia.
Environmental destruction and expansion of damages of yellow sand to neighboring countries
Desertification is progressing rapidly in grasslands of Southern Mongolia due to the Chinese enterprises' rampant resource development and destruction of environment while the PRC propagates the economic reform and the economic development. The Chinese government claims that these problems are caused by grazing by Mongolian nomads.
However, it is now clear that banning of traditional Mongolian lifestyle, forcing settlement and implementing various kinds of policies for 'environmental preservation' by the Chinese government devastated the grasslands. Furthermore, the yellow sand which generates from this area after the destruction of environment causes significant damage to Japanese people. Barbarous acts of the Chinese Communist Party are causing severe damage to the global environment.
Human Rights violations and intimidations against Mongolians living abroad
The Chinese government is monitoring Mongolians living in democratic countries such as Japan. It sometimes requires them to provide information and intimidates them by taking their family members hostage. This is the infringement of sovereignty of other countries and the transboundary violation of human rights.
We, the South Mongolia Congress , appeal to the democratic countries these facts from Hiroshima during the G7 Summit.
Please take your action to make the Chinese government stop these harmful acts.
South Mongolia Congress