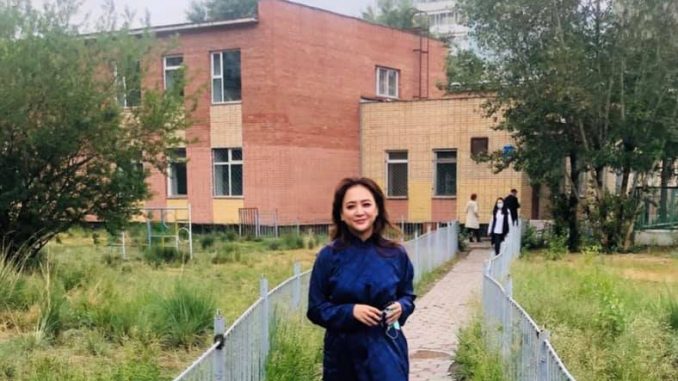 (Suuliin uyed Ovor Mongolchudiin eh heleeree hicheeleh erhiig ni hurtel boliulan zogsooh gesen Hyattiin kommunist zasgiin bodolgo ni ireh suralgiin hugatsaa boloh 9duger saraas Jirim aimag boyu Tunglio hotoos ehilen heregzuulegdeh gej baiga chimee ni mongol hun buhnii chihiig ni deldej ehillee.Ovor Mongolchud eh helee hamgaalahiin toloo olon zuiliin helvereer durguitsel esergutslee ilerhiilseer baiga buged delhiin olon orond amidardag mongolchud ch eserguutsel irelhiilj ehilejei.Ene dund Mongol Ulsiin mongolchud ch Ovor Mongolchuudiin toloo duu hooloigoo gargan demjij baiga ni Ovor Mongolchudad setgeliin yeh dem boloh ni damjiggui.)
ӨМӨЗО-ны Түнляо хотод энэ хичээлийн жилээс эхлэн Монгол хэлээр хичээл орохыг хориглосон хотын захиргааны шийд гарчээ. Үүнтэй холбогдуулан Өвөрмонголчууд эх хэлний эрхийнхээ төлөө идэвхитэй тэмцэж байна. Монгол хэлний хүрээ хязгаарын автоматаар хашиж, Монгол хүний эх хэлээрээ боловсрол эзэмших, эх хэлнийхээ орчинд ажиллаж амьдрах үндсэн эрхэд бүдүүлгээр халдан буй энэ явдлын эсрэг Тусгаар тогтносон, Ардчилсан, Эрх чөлөөт Монгол улсын сэхээлэг иргэд дуу хоолойгоо өргөнө үү!"Өвөр Монголын сургуулиудад Монгол хэлийг нь буцаан өгнө үү!" шүлэгтэй дуудлагад таныг урьж байна. Монгол хэлнийхээ яруу сайханг илтгэх шүлэг найргаа дуудаж видео хийгээд өөр өөрсдийн үг, үйлдлээр энэ явдлын эсрэг дуугаа өргөнө үү! Дуудлага авсан хүмүүс 72 цагийн дотор шүлэгтэй видеогоо нийтлээд цааш мөн 5 хүн дуудаарай. Чингэхдээ дорх хаштагуудыг заавал ашиглаарай.
Миний дуудах хүмүүс:
Chinese authorities in the northern region of Inner Mongolia has banned the Mongolian Language in and around Tongliao city (Inner Mongolia) beginning in September.Tongliao is a place with the largest ethnic Mongolian population; nearly 1.5 million people.
#LanguageRightsForInnerMongolians
#LanguageRightsAreTheHumanRights
#ChinaBansMongolianInInnerMongolianSchools
#SaveTheMongolianLanguage翻訳を見る
*Todorhoilt:
Tus niitleliig Indra Dashbalbariin FB-eef shiljuulelen niitelsen yum.Narin agulgiig ni huvi hunii FB-ees uznuu!