Death of The Woman Warrior
(Mr. Challenge
Filmmaker, Photographer, Journalist, Activist & Director of www.mrchallengefilms.com
Miguel Cano is a Spanish Audiovisual Producer and Director of www.mrchallengefilms.com. He has traveled over fifty countries having developed audiovisual projects in half of them. He has produced six documentary movies always carrying a social-humanitarian approach, including his last work 'Still Tibet', screened and awarded in several International Film Festivals.)
It had been already 7 weeks traveling all over Mongolia; from the Gobi Desert in the south to the northern Mountains next to the Russian border, from the far west where the Kazakh Mongols live to the hectic capital city Ulaanbaatar. Now it was time to visit the eastern side of Mongolia and after a 25-hour travel I reached Choibalsan which was just 50 km away from the Chinese border. It could have been already enough to fulfill my explorer ambitions, however in that town I visited a fascinating museum of Mongolian history where I found a map pointing several spots of historical interest on the easternmost town of Mongolia, Khalkhgol. It was located 450 km away on the south-east and when asking the museum receptionist his answer was "road is terrible and there is no transport heading to that direction. It is impossible to get there". He had just said the magic word which triggers the challenge mode on. Pursuing to know deep and deeper Mongolia's history I was about to find out the remarkable life story of The Woman Warrior.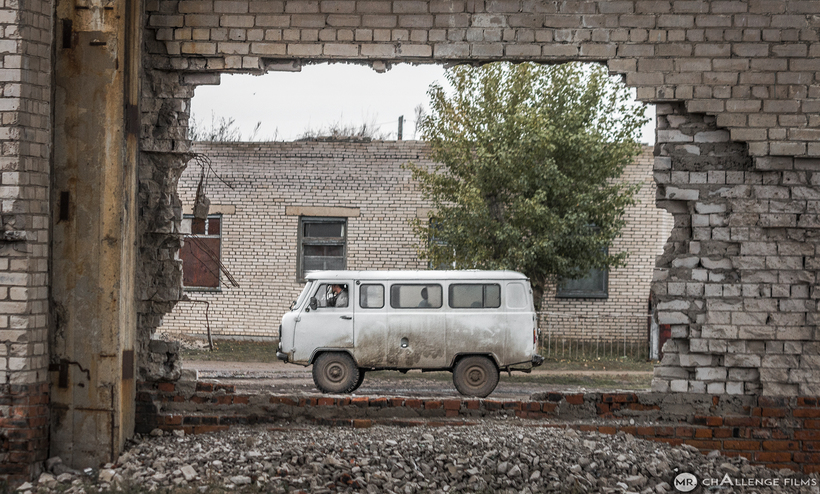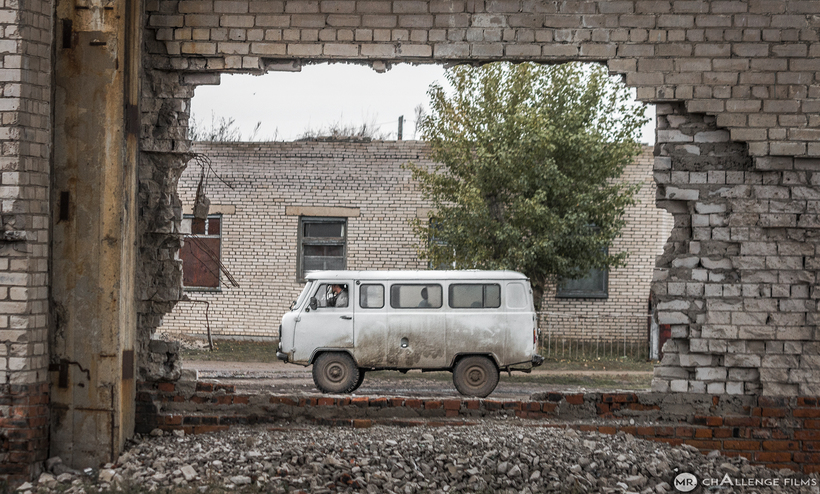 MR. CHALLENGE FILMS
Soviet van in Mongolia's easternmost town: Khalkhgol.
30th September, 2016.
I woke up at dawn, went to the street market and started asking everybody around. 3 hours later I was in an old soviet van on my way to Khalkhgol with other 4 Mongolians, we had a 12-hour ride ahead. Around half way we stopped at a Ger to have some homemade pasta with goat meat. I started communicating with 2 young travel companions on their 30s who could speak a bit of English. I showed them some of my photographs from the phone and they started to discuss in Mongolian, something that intrigued me. Few hours later and in the middle of the night we finally arrived in Khalkhgol. It was a very small town with barely few houses and I had no idea where to stay over. The two guys I had previously spoke to asked me to come along with them, they were staying at a room with 3 beds and they offered one to me. As communication in English was complicated, I opened the laptop and I played some of my movies to show them my work. They were watching the screen with rapt attention till I played the trailer of Still Tibet. Suddenly they both stood up and started discussing in Mongolian while walking nervously around the room. I could do nothing but observe astounded the scene. Then one of the guys made a call and handed me over his phone, it was the voice of a girl, his English teacher from Ulaanbaatar, who explained to me what the two guys were doing on this remote location:
"Ganbold was born in China's Inner Mongolia and few years ago he had his passport confiscated by the Chinese Authorities for expressing his opposition to Chinese's governance towards Mongolians living in China. He then crossed to Mongolia as an outlaw and now he is in Khalkhgol on a mission to rescue his childhood teacher from China. That is why Batbayar is coming with him. He is the one that will cross to China by car, find the teacher and bring her back to Mongolia by crossing the border in the middle of the night. She is a political prisoner and also had her passport confiscated. The mission is highly challenging because the teacher is old and her health is in very poor condition. Once they cross back to Mongolia, she will be transported to Ulaanbatar and from there she will fly to USA to spend her last days next to her son, whom she last met 7 years ago during few hours at Shanghai Airport."
I could not believe my ears. These two young guys were about to risk their everything for allowing an old sick woman to spend her last vital days with her son, and in order to succeed they were challenging one of the most powerful nations on Earth. The fact is that I was there and I had the 'obligation' of letting the world know about their brave initiative.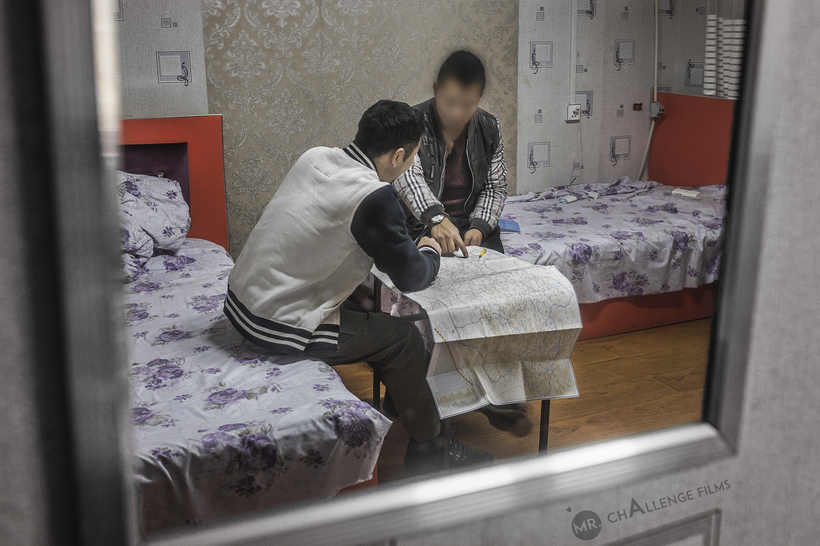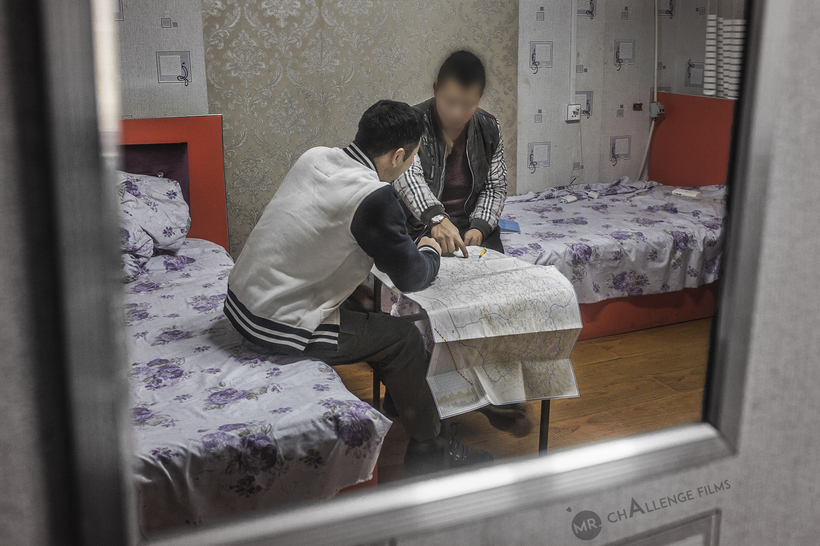 MR. CHALLENGE FILMS
Ganbold and Batbayar planning the rescuing mission.
The following 3 days were a bit puzzling. We were stuck at a very small village without internet connection, spending hours planning the action while waiting for the driver's availability and coordinating with our people around the teacher in China…with the added difficulty of having wiretapped every communication around the woman. I took that time for interviewing the two guys and for training Batbayar on how to film properly with his phone so he could document the progress of the mission once in Chinese territory.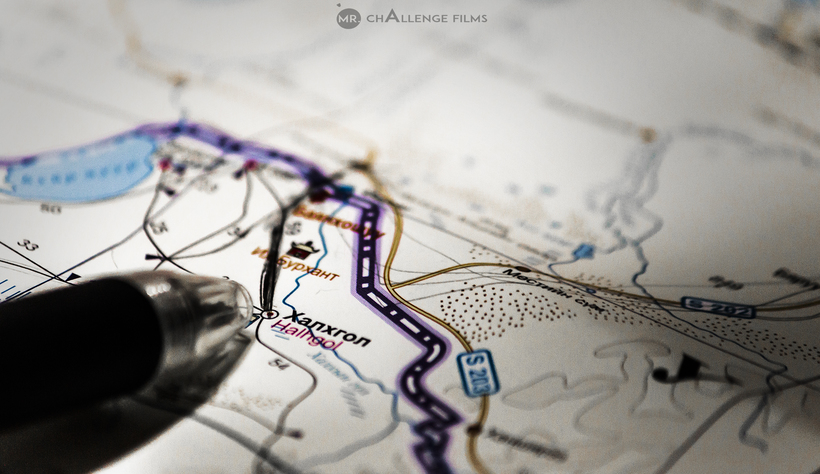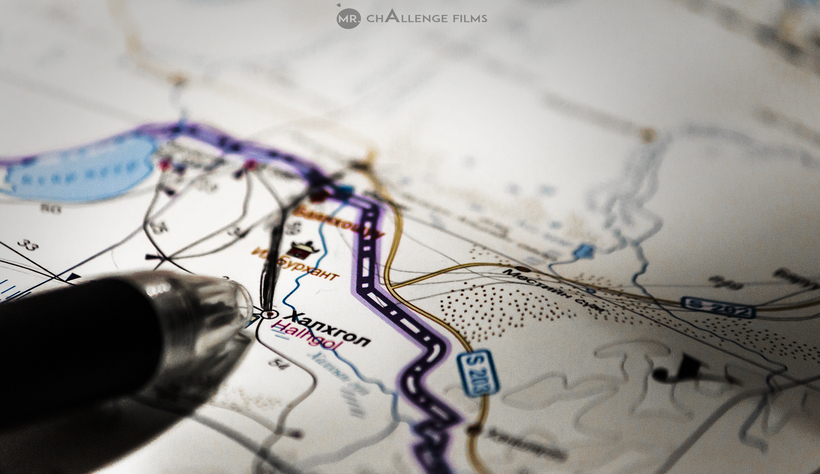 MR. CHALLENGE FILMS
Planning the rescuing mission: Khalkhgol on the map, right next to the Chinese border.
4th October, 2016.
On the previous day the driver finally announced that he would come today and the teacher was in a position where she could potentially be rescued. The mission was on.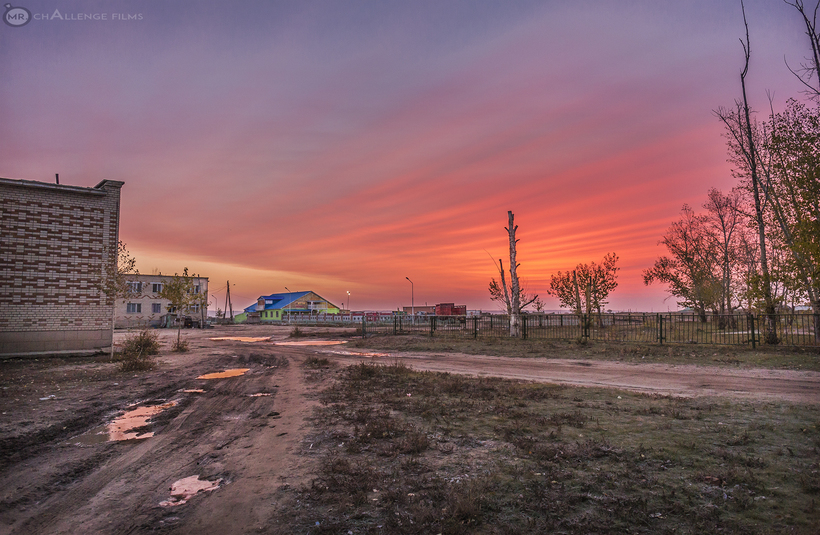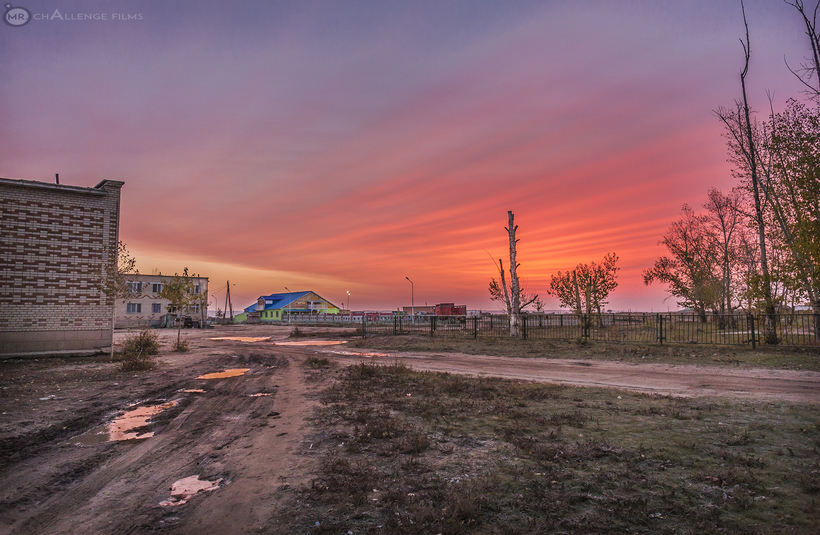 MR. CHALLENGE FILMS
Fire sunrise in Khalkhgol on the Mission Day.
We woke up at dawn and we reached the Chinese border after a 2-hour drive where it prevailed the apprehension of crucial events ahead of us. We all wanted to spread confidence around, but we could not hide the worry for uncertainty. Ganbold and I stepped out of the car and bid farewell to Batbayar and the driver, we did not know if we would ever see them again.



MR. CHALLENGE FILMS
Chinese border next to Khalkhgol where Batbayar was planning to cross to Mongolia with the teacher in the middle of the night.
Ganbold decided to wait for the bus, which was meant to pass by 8 hours later, but I rather used my finger and hitch-hiked. 4 hours later I was in a car riding back to Ulaanbaatar, it was a 2-day journey.
6th October, 2016
Once I reached Mongolia's capital city, I received a message from Ganbold informing that the mission was on hold because his teacher had fallen terribly sick and she was now hospitalized. Batbayar was around waiting for some little improvement on her health to take her back to Mongolia, "something which would be tremendously complicated because she was watched by several Chinese police officers", Ganbold said. After hearing that I decided to contact the teacher's son, Cheel. My first question was how come it was so complicated to take her mother to the border and why she was under such a hard police surveillance. His response was quick and simple: 'You don't know who my mother is?' After telling him that I had no idea he started to explain more in detail:
"My mum is a writer, activist, and member of the banned Southern Mongolian Democratic Alliance (SMDA). Huuchinhuu has authored several books and hundreds of essays detailing ethnic and human rights abuses of the Mongolian people in China. Chinese authority claimed my mom might harm national security so they seized her passport. This was back in 2006, my mom published some statements at her blog criticizing the oppressive Chinese ethnic policy in Southern Mongolia. Her blog was shut down and since 2010 she has been under house arrest, freezing her bank account in 2015 blocking me or any other relatives from sending her funds to care about her health. Now my mom is dying of cancer without a chance for treatment and she has been blind for many years. However they still won't let loose. That my friend, is oppression."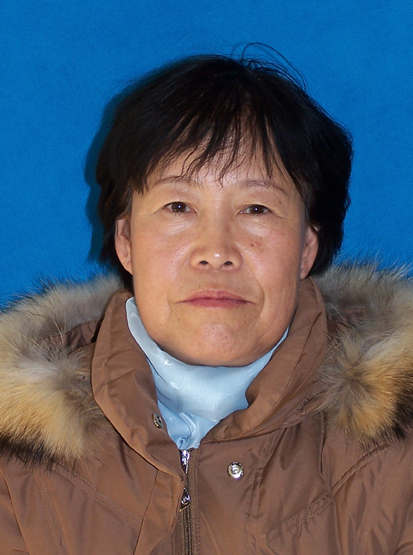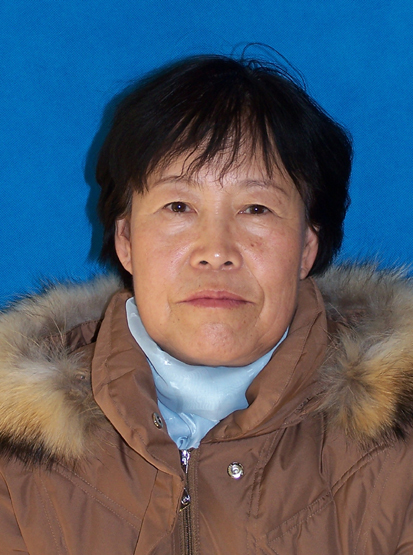 SMHRIC
Huuchinhuu, Inner Mongolian dissident.
Chinese hospitals and doctors claimed no cure to her and all petitions for her to get a passport and travel to America for treatment were denied by the authorities. That is why her last hope relied on this hazardous rescuing mission. Her health condition was going down the cliff, time was too tight to keep wasting on asking for her right to travel internationally. "I live an hour away from Mayo Clinic and I get treated there myself for cancer, I know what they are capable of. We could maximize her chance of survival by introducing more superior medical technology and resources if the plan works out", Cheel said.
He gave me the guidelines to keep researching about Huuchinhuu while I kept waiting for news from Batbayar. As I kept reading about the figure of that woman, my wishes for her rescue mission to succeed were growing, she deserved the world to know about her message after an entire life fighting for freedom.
Even though her blogs and social network profiles were shut down and each of her communications wiretapped, she still managed to keep releasing statements from time to time. This fragment is extracted from her 'My 56th Birthday' essay, published two months after her house arrest started:
"Now, I am put under house arrest in my rented house by the Public Security Bureau. Some Public Security personnel reminded me that 'in fact they are very kind to me'. Perhaps they are right, because they haven't beaten me up yet. They haven't thrown bad words at me either. I've come around to thinking that the saddest event in human life is when one drops tears in thanks for the mercy of those who deprived one's freedom? Luckily, I don't have this feeling of thankfulness to drop my tears. What I am really desperately longing for is freedom and a normal human life. To me having a normal human life in my own home, cold and small as it may be, means so much. Unfortunately this simple hope seems too distant for me and there is no sign telling me when it might arrive. My imprisonment is my misfortune. However, the most unfortunate event is that the Southern Mongolians have lost their freedom as people. My personal misery would be nothing if the Mongolian people enjoyed freedom."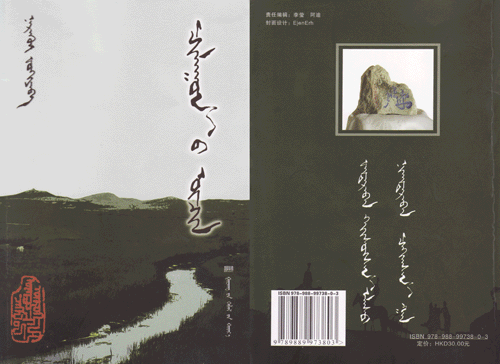 SMHRIC
One of Huuchinhuu's confiscated books.
Two months later, in February 2011, Huuchinhuu was gone missing. When asking Cheel about her mother's disappearance, he stated that, "she was taken away directly from hospital, first held in a hotel room, then mostly at a very small prison cell. Living with extreme poor living conditions and diet contributed to worsening her health. No families and friends were allowed to visit. Somehow she found a way to reveal pictures of being brutally beaten. After that, as punishment, she was moved to another prison cell and families were never informed where she was kept." She would not be released till November 2012. She had been kept imprisoned for 20 months under inhuman conditions without any trial or sentence against.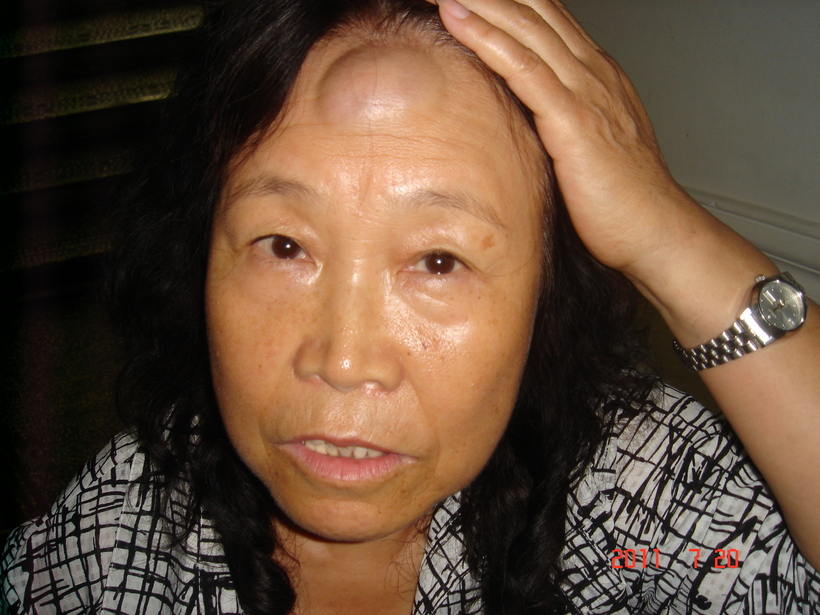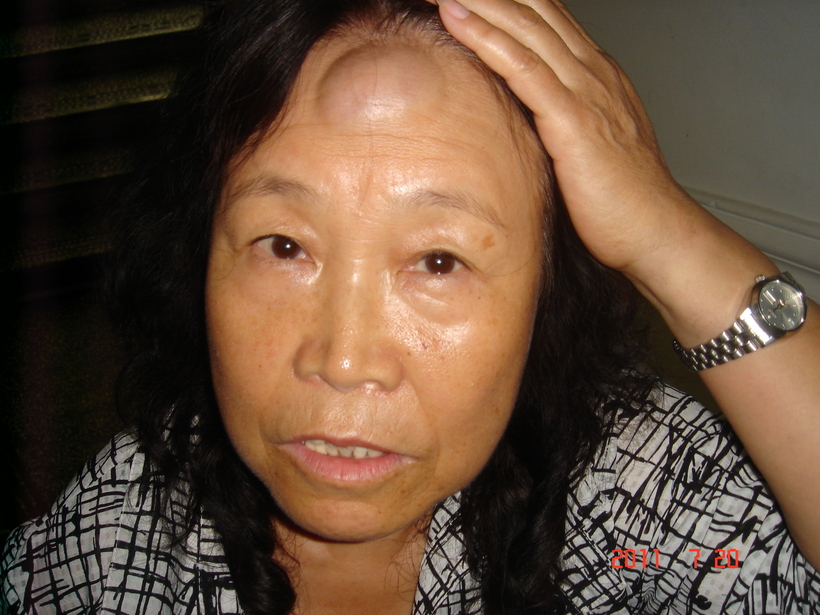 SMHRIC
Huuchinhuu after being beaten during her clandestine imprisonment.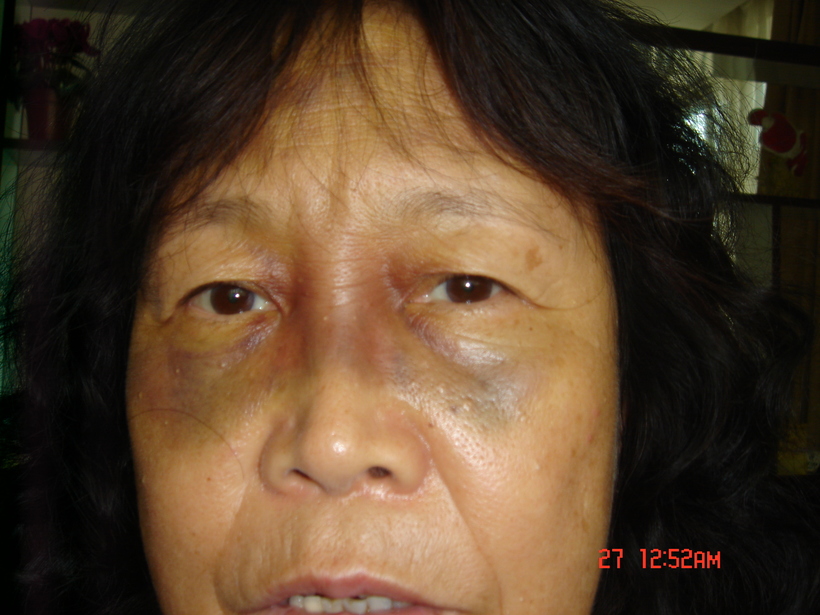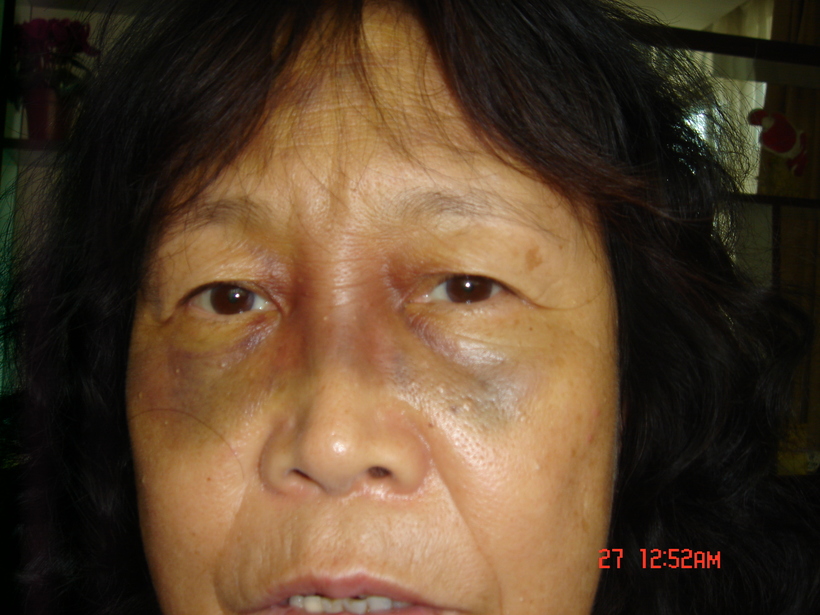 SMHRIC
Huuchinhuu after being beaten during her clandestine imprisonment.
Two days later, I heard from Ganbold that Batbayar was back in Mongolia. Huuchinhuu's health was rapidly worsening and in those conditions it was impossible to make her cross the Chinese border in the middle of the night. After more than 40 years fighting for freedom, now her life was expiring in captivity just when she was about to have the chance of being finally released.
25th October, 2016
"My Mom passed away 6:40 am of 25th GMT+8". Cheel's message stroke a deep chord in me. Despite his sadness, we still had a brief conversation about her mother.
– What was Huuchinhuu aiming for? What was her dream?
To preserve the Mongolian culture and natural environment, or at least slow down the process, hopefully till the day when Inner Mongolia finally finds freedom. Her dream was the same as most of indigenous people of Inner Mongolia: reunion with the country of Mongolia. People who share same values and culture should not be separated by political forces.
– What human rights violations were/are happening in Inner Mongolia by Chinese Authorities?
Removal of Mongolian schools, denying freedom of speech, press and association, exploiting of natural resources and herding land, dumping polluting industries into Inner Mongolia, historically the Purge of the members of Inner Mongolian People's Revolutionary Party. Above are generalization of violations, details can be a long list.
– How did you see your mother evolve over the last years?
She is probably the most diligent person I have ever seen. Despite her health situation not allowing her too much writing, she was still one of the most productive writers. As internet was introduced to public, she learnt computer and internet in no time and became one of the earliest Mongolian bloggers. Strong sense of responsibility and diligence put her in positions to administrate several major Mongolian sites. All 3 of her books published and confiscated were typed and edited by herself, including covers. She was a hard worker, a quick learner and very sensitive to new media and technology.
– She sacrificed a lot and died loyal to her principles. What do you think about your mother's fight for Inner Mongolians' human rights?
I think there has to be someone like her to make our planet a better place. Selfishly speaking, I would rather hope she was not this poetic hero so I do not need to live my life with this unbearable hate. However, I do sincerely respect her and I am proud of her.
– What is your opinion about your mother?
She is my hero. A role model of life. A person who holds her ground and principles no matter how brutal the enemy is.
– If you had the chance of saying one last sentence to your mother, what would it be?
You have been the best mother I could ever expect and I will carry on your spirit from this day till my last day.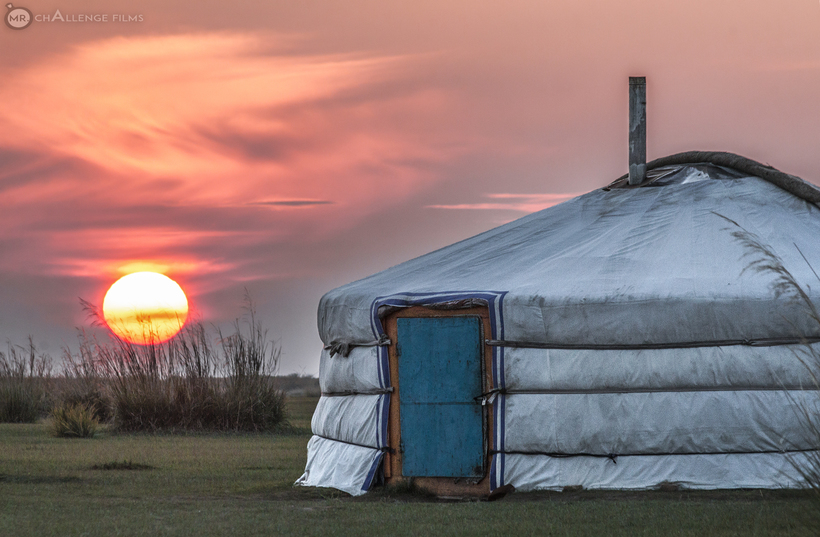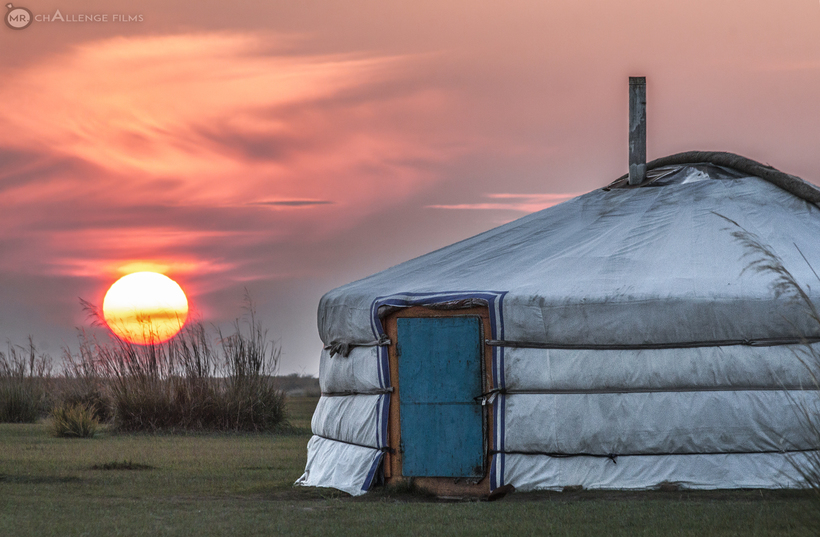 MR. CHALLENGE FILMS
After an entire life fighting for freedom, Huuchinhuu's life expired in captivity just when she was about to have the chance of being finally released.
(http://www.huffingtonpost.com/entry/5877a625e4b065be69099208?timestamp=1485097245283)