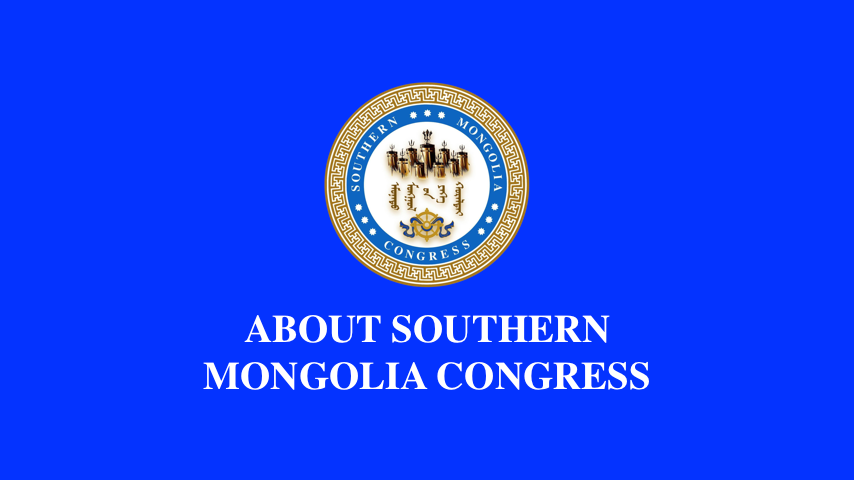 About Southern Mongolia Congress
Chinese colonial government is establishing numbers of mining, environmentally unfriendly agricultural and chemical plants as well as allowing rogue Chinese nationals settle on the native Mongolia soils. Because of that, Mongolian are losing their pasture. Their culture, livelihood and history are being destroyed, freedom and human right under threat. In other words, Mongolian people are living like slaves on the lands that were inherited from their ancestors.
Against this situation, Mongolian people, both living inside and outside of China, are forming into organization and fighting in various ways. This is very similar to the history that happened one hundred years ago, where secret organizations were formed for independence of Mongolia. Establishment of Mongolian People's Party, which were resulted from unity of those secret organizations, were important milestone for independence of Mongolia. Like this, all those organizations that are fighting against Chinese aggression, were looking for opportunities to join their forces together. This initiative was urged by today's dire situation and resulted in establishment of "Southern Mongolia Congress". And On 9th of November, 2016, our aspiration was realized in Tokyo, capital of Japan.
This is an important event that marks the progress to next step in fight for Southern Mongolian national freedom movement. The reason the event was organized in Tokyo is because there are largest number of freedom fighters living in Japan. Southern Mongolian freedom fighters from Asia, Europe and America attended this event, either in person or online, and discussed the rules, organization and action plan of the Southern Mongolia Congress. Temtselt Shobchuud, partisan leader of 1981 Southern Mongolian student movement, Jargal.N and Daichin Olhunud were elected respectively as Chairman, Vice Chairman and General Secretary of the Congress. Also, 19 people including Munkhbayar.Ch, Narsuu.H, Arslan.Kh, Arch Govrud, Battur.E, were elected as members of permanent council. They were divided by regions such as Japan, US, Europe and Mongolia, and will be responsible for carrying out actions in related regions.
---
Brief Biography of Mr. Temtseltu
Mr. Temtseltu, born in Southern Mongolia in 1956, had been working for human rights issues in the study period when he was under strict supervision by the Chinese government. In 1991 he defected to the Mongolian People's Republic as it was called at that time, and then in 1991 he was accepted as a political refugee by Germany in 1992. Since then he had established solidarity with Tibet, Uighur, the Chinese democratization movement, Taiwan, etc. and been internationally appealing for the human rights and environmental problems in Southern Mongolia.